New generation decision engine implements changes within minutes with no IT resources
Marketplace data sources and fintech solutions Ready-to-use connectors to external data sources
AI solutions
Use the power of machine and self learning.
Our solutions your convenience
All-in-one platform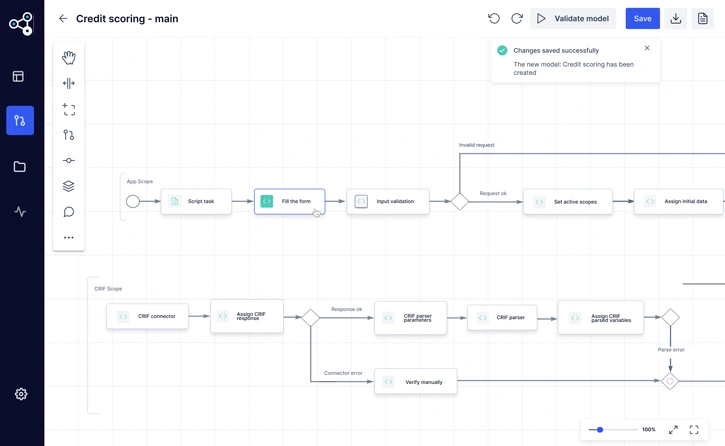 Cloud-based or on-premise
Our solutions is available both in the cloud and on premise.
Simple process builder
Implement changes faster and improve your business and IT collaboration.
Low-code | No-code
Build and implement new processes easily.
Fast & easy integration
Plug & play integraton with other API solutions.
Engine heartbeat monitoring
Instant access to any information you need.
With Us
You can
Save time and money with business process automation
Scale the business globally
Improve and speed up decisions making
With SLS you can deliver
more, faster and easier
The SLS platform allows you to manage the drag and drop (low-code, no code) process
More.
Faster. Easier.
SLS solutions
No IT resources needed
Integrations take HOURS
Dedicated for
PROCESS OWNERS
Changes in project
take MINUTES
ONE API to hundreds of APIs
INTEGRATED
ML and AI Solutions
Still have questions?
Contact us and get your demo of our SLS platform
Book a free demo
Our Marketplace
You have all needed sources of information you need in one place
SLS works with all popular external data sources and fintech solutions
All integrated
All ready to use
Just drag and drop
KYC
Social media
Credit scoring
Databases & Registers
Transactional Data (PSD2)
Anti Fraud
Connectors
SLS works with all popular connectors




Don't you see the source or solution you're interested in here?
Let us know what we can do for you!
With SLS you can do more than you think
The digital future of business analytics is now!
Artifical Inteligence
– Drag & drop ready to use AI solutions like OCR, Voice API, Vision API, etc
– Build workflow faster and better with AI support
Machine learning
– Integrated ML module to quickly introduce custom ML algorithms
– We support: R, Python, Tensorflow
Self-learning
– Train, test and implement ML algorithms in the real time
– Use AI to make faster and better decisions
Contact us and grow your business with SLS
Book a demo of the SLS platform
Company info
+48 506 829 001
+48 502 464 675
contact@slsolutions.io
SELF LEARNING SOLUTIONS Sp. z o.o.
Szarotki Street 10/15
Poland, Warsaw 02-609
Court register: 0000667936
Tax identification numer: 5842758148
Schedule DEMO